Create password protected archive
---
MagicArchiver can create password protected zip or 7z archives. You can add a password to an archive, change the password, or remove the password from the archive. To create a password protected archive, please follow the steps,
1. Open "My Computer" and navigate to the files or folders you wish compress.
2. Right-click on the file. If you need create archive from multiple files or folders, you need select the files first, then right-click on selected files.
3. Under "MagicArchiver", click "Add to archive...".
4. Choose the archive type and path name. The default archive type is ZIP, you can also create 7z archive.
5. Click "Advanced" tab, then click "Enable password protection".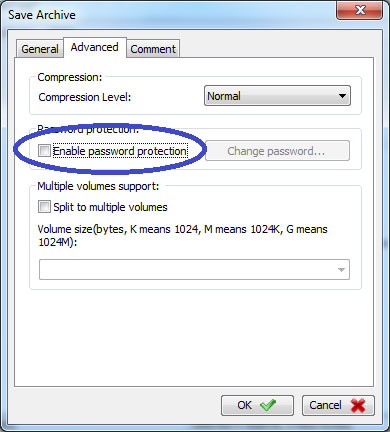 6. Enter the password twice, and click "OK" to exit the password dialog.
7. Click "OK" to start creating the archive.